MONCLOA
CONSTRUCTOR DE GUITARRAS
YOU ARE VISITOR # TO THIS PAGE
MONCLOAS'S GUITARS ARE A PRODUCT OF A LONG SEARCH, OF EXPERIMENTING, OF A CONSTANT DISCOVERY MOVED BY THEIR FASCINATION WITH THE INEXPLICABLE SPELL THAT THE WOOD AND THE STRINGS SEEM TO ENCLOSE

THESE GUITARS ARE VERY RESPONSIVE, HAVE EXCELLENT TONE, PROJECTION, BALANCE, INTONATION AND EASE OF PLAY. THEY HAVE GOOD VOLUME AND SUSTAIN. TO MAKE THESE INSTRUMENTS VERY ADAPTABLE TO DIFFERENT CLIMATES, ALL ARE MADE IN AN AUTOMATICALLY CONTROLLED ENVIRONMENT AT 55% RELATIVE HUMIDITY.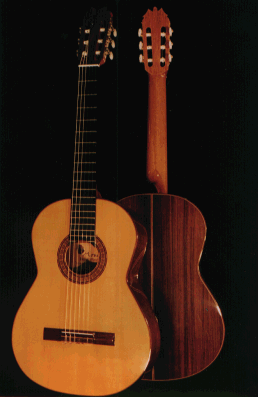 CLASSICAL CONCERT GUITAR SPECIFICATIONS
CODE: C-2-P
TOP: EUROPEAN SPRUCE
SIDES AND BACK: INDIAN ROSEWOOD
FINGERBOARD: EBONY
NECK: MAHOGANY
ROSSETTE: WOOD MOSAIC
STRING LEGHT: 650 mm.
AT HIS HOME IN THE SUN-BATHED DISTRICT OF LA MOLINA, DANIEL MONCLOA'S WORKSHOP OPENS TO UNVEIL A PASSION. THE ROOM IS FULL OF THE MAGIC THAT ARISES FROM SOMEONE WHO CREATES AND BRINGS TO LIFE A MUSICAL INSTRUMENT, A GUITAR, FROM UNANIMATED MATERIALS THE EYE OF AN EXPERT HAS SKILLFULLY CHOSEN.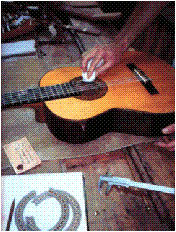 THE MONCLOA FAMILY IS SMALL, AND MIGRATED FROM SPAIN TO PERU IN THE BEGININGS OF 1900. THE ART OF GUITAR MAKING IS A FAMILIAR CONCERN: DANIEL, WIFE MICHELINE AND DANIEL JR. ARE ENGAGED EXCLUSIVELY IN THE HAND-MAKING OF FINE GUITARS. THEY MAKE GUITARS WITH AN EUROPEAN PEDIGREE, AND THE LEGACY OF ARTISTRY AND TECHNIQUE OF SPANIARD GUITAR MAKERS. DANIEL MONCLOA HAS BEEN ABLE TO TRANSMIT HIS CREATIVE PASSION TO HIS SON DANIEL JR.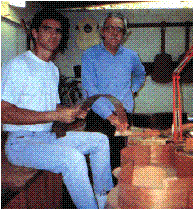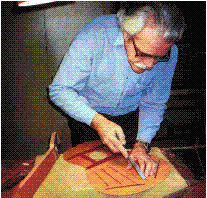 THE TIME OF CONSTRUCTION OF THIS FINE GUITARS IS NORMALLY THREE MONTHS, BUT THE DELIVERY TIME CAN VARY ACCORDING TO AVAILABILITY. THERE ARE ALSO OTHER MODELS OF MONCLOA'S GUITARS THAT ARE MADE BY SPECIAL AGREEMENT OR ACCORDING TO THE MUSICIAN SPECIFICATIONS AND NEEDS.
YOU CAN CONTACT THE MONCLOA'S AT:
OR AT
APARTADO 123
LIMA12
PERU
PHONE: (511) 3680260 / (511) 479-8456